Building connections:  'the heart of what we do'
Since 2019, partners in the Avondale Faith and Health Collaborative have worked together to offer food, vaccines, masks, clothing, mental health support and other resources to help residents in the greater Avondale area live well.
But the Collaborative does much more than that, says Amy McNicholas, former Illinois manager of Faith and Health Partnerships, Advocate Health Care. "We build connections and relationships with community members," she said. "That's the heart of what we do."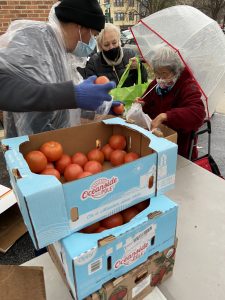 The Avondale Faith and Health Collaborative is based on the companionship movement – a ministry of presence and relationship-building that is rooted in our natural capacities as human beings to be sensitive, compassionate, and concerned.
This has been especially true throughout the pandemic, says Nilda Garcia, faith community nurse with Advocate Aurora Health. "We have been building relationships with community members at a time when we have been feeling isolated," she said.
For example, Nilda and Graciela Vargas, community connector with Advocate Aurora Health, have accompanied residents impacted by the pandemic's economic downturn by linking them to utility and rent assistance, donated clothing, diapers, and food, and other resources.
Some of the donations have come from Avondale-area residents who wanted to give back and say thank you for the assistance they received from the Collaborative in the past.
"Anyone one of us could be receiving or giving," Graciela said. "It's about bounty and what we can afford to give. When our cup overflows, we can give to someone else. It's not about charity, but dignity."
"That's the power of relationship and mutuality," Amy added. "Giving of something to someone just may be the nourishment someone needs."
Bringing warmth and cheer to Avondale residents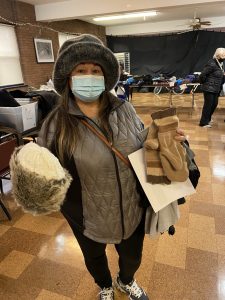 At the Collaborative's November food market at St. Nicolai United Church of Christ, Chicago, residents received nutritious food, as well as donated coats and clothing
During the December food market, adults and children will receive Christmas stockings, filled with socks (one of the most-requested clothing items), thanks to Kiki Collins, Director of Mission Impact, Concordia Place, and other Collaborative partners who acquired the donations and assembled the stockings.
In addition, Collaborative partners teamed up with Roseland Community Hospital to offer the COVID19 booster shot and flu vaccine for individuals age 5 and older at a weekly community meal.
The food markets and community meals allow community members of all walks of life to gather, connect and bond.
"Talking to people and being available to hear their stories is so important," Kiki said. "Sometimes people just need a listening ear and a smiling face. I appreciate being part of it."
"We've been so blessed to be part of the collaborative," Kiki added. "From the wonderful information Nilda shares about vaccines, to receiving masks for our families. It's been a great partnership for us."
Nilda describes the Avondale Faith and Health Collaborative as a "work in progress."
"We're constantly trying to figure out how we could partner to help meet the needs of families," she said.
"We are a work in progress because we are always building relationships, growing and learning," Amy said. "We are committed to the Avondale community. We want to impact the community in a positive way."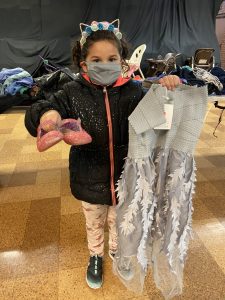 About the Avondale Faith and Health Collaborative
The Avondale Faith and Health Collaborative is a partnership of faith-rooted organizations and faith communities that have come together to improve the health and well-being of Avondale residents.
The Collaborative works with people from congregations and the community to bring health information and resources and to connect all the good that is happening in the community, so people can be well.  The Collaborative offers:
Weekly community meals
Monthly food markets
COVID-19 and flu vaccines
Clothing and coat drives
Information on a variety of health and well-being topics
Links to utility and rent assistance and other community resources
Programs for families, including a mom's support group, car-seat checks, and breastfeeding information
Kind gestures, like offering holiday stockings that contain socks (one of the most-requested clothing items from families) and other necessities.
And much more
The Collaborative's efforts support Advocate Aurora Health's community strategy, which includes prioritizing health equity and addressing social influencers of health, such as food security, housing and access to care.