Avondale Faith and Health Collaborative: Promoting Health and Well-Being for Our Community
The Avondale Faith and Health Collaborative is a partnership of faith-rooted organizations and faith communities that have come together to improve the health and well-being of Avondale residents.
We can all thrive and be healthier when we:
Know and trust each other,
Draw on the power of our spiritual traditions,
Connect to services and programs that meet our needs,
Share the strength and love that is already here in our neighborhood.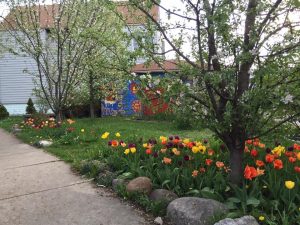 The Collaborative is working hand-in-hand with people from congregations and the community to bring health information and resources and to connect all the good that is happening here so that people can be well. Here's how:
A Faith Community Nurse helps you learn about how to stay well; how to manage your health issues; how to connect our minds, bodies and spirits; and how to find your way in the health care system.
A Community Connector helps the churches and community organizations link what they are doing with each other and with the community. They also help people in the community get to know each other and find the things that they have in common so we can work and play well together. They help mobilize the community around important issues that affect the whole neighborhood.
Faith communities bring what they are already doing to support people in the community and make sure that they are coordinating and that everyone knows what's available. They also bring the spiritual power of prayer, comfort, vision, and love that inspires us to new ways of living together.
Concordia Place provides programs that help children learn and thrive and that make families stronger and happier.
Community members bring acts of love and kindness, ideas about what would make their neighborhood healthy, relationships that cut across generations, wisdom and hope and practical solutions for the many challenges facing the community.
The Avondale Faith and Health Collaborative includes Advocate Health Care, Concordia Place, Concordia Lutheran Church, St. Hyacinth Catholic Church, Philippine American Ecumenical Church, New Life Church, St. Nikolai United Church of Christ, Kimball Avenue United Church of Christ and the Avondale Neighborhood Association.