Advocate Health Care and Aurora Health Care: A commitment to LGBTQI+ patients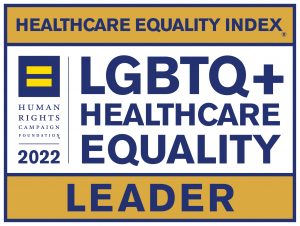 We have once again received a perfect evaluation in the Human Rights Campaign Foundation's Healthcare Equality Index (HEI), the nation's foremost benchmarking survey of healthcare facilities on policies and practices dedicated to the equitable treatment and inclusion of their LGBTQ+ patients, visitors, and employees.
All 27 of our hospitals earned the LGBTQ+ Healthcare Equality Leader designation. Fewer than 15% of the 1,700+ hospitals evaluated by HEI achieved such a designation, making our organization one of the top health systems nationally in the LGBTQ+ space and the only top performer in Illinois or Wisconsin, according to the index.
The key to achieving that accomplishment has been the dedication and allocation of resources at the system level to support the work at each of our hospitals, said Oscar Zambrano, director of business development and equity at Advocate Illinois Masonic Medical Center (IMMC).
"Advocate Aurora has allocated resources at a level that is probably more than most community, teaching, and trauma hospital networks," Oscar said. "That has led to us having robust participation in the HEI survey, earning the Leader designation, and standardizing our processes to support LGBTQ people."
Those processes include:
establishing LGBTQ+ working groups to oversee LGBTQ+ outreach and policies,
creating inclusion councils – a collective of 12 core teams across our footprint focused on locally integrating diversity, equity, and inclusion into our health system.
offering LGBTQ+ ombudsmen at each hospital site
having routine, opt-out HIV screening for all emergency room patients at IMMC, Advocate Trinity Hospital, and Aurora Sinai Medical Center, with plans to extend the policy to our other hospitals over time.
standardizing the collection of Sexual Orientation and Gender Identity (SO/GI) data from patients, to help identify health care needs, address health disparities, and deliver important health care services.
"Accepting and respecting our LGBTQ+ patients and affirming their identities is core to what we do," Oscar said. "It's important clinically because affirming care for LGBTQ+ individuals is a premise to better health outcomes."
"We do it better than some because we are a community network of hospitals," he added. "Our LGBTQ+ patients are members of our community. We are their neighbors. We want to establish life-long relationships with them."
Learn more about how we care for our LGBTQ+ patients.
Learn more about Illinois Masonic's legacy of caring for the LGBTQ+ community in this HEI report.
About the Healthcare Equality Index
The Healthcare Equality Index evaluates and scores healthcare facilities on detailed criteria, such as having an LGBTQ+ inclusive patient non-discrimination policy, an LGBTQ+ inclusive visitation policy, an LGBTQ+ inclusive employment non-discrimination policy, and staff training in LGBTQ+ patient-centered care.
The HEI also scores on how many LGBTQ+ inclusive policies and practices healthcare facilities have, such as patient services and support, employee benefits and policies, patient and community engagement, and the offering of transgender-inclusive healthcare benefits to employees.