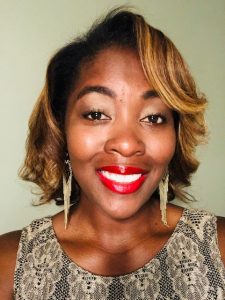 Anya Gordon has a passion for helping others. Her new role at Advocate Aurora Health as Program Specialist on Faith and Community Health allows her to do just that – and make a direct impact on her community.
"This role is well suited for me," she said. "It's in line with my personal passion and interest. I believe in this work."
Working in the Wisconsin region, Anya supports the work of faith leaders and their congregations to improve health outcomes for their members and the communities they serve.
Among her responsibilities, she provides consultation, education and resources for faith leaders, congregations and faith-based entities around faith-rooted health promotion. She also builds the capacity of faith communities to be places that support the health, resilience and well-being of their members and of the communities they serve.
The Advocate Aurora Health Community Strategy, whose goal is to improve life expectancy in targeted low-income communities by 5% by 2030, guides her work. The Strategy addresses such issues as housing, food security, access to medical care and workforce development.
Anya will collaborate with community and faith-based partners that address those medical needs and social determinants.
"The overall goal is to work together so we can build healthy communities and improve health equity," she said.
Anya comes to her new role with experience in fundraising and development, project and event management, human resource recruitment and more.
She has worked at Advocate Aurora Health for the past 20 years, most recently as a community Development Coordinator at Advocate Aurora Sinai Medical Center.
Her work in that role has included promoting Advocate Aurora Well Community programs: Aurora Healing & Advocacy Services, Aurora Family Service, Aurora Walker's Point Community Clinic, Aurora Parish Nursing Program, and Bread of Healing Clinic. Anya was also instrumental in raising awareness and significant funding for these vital programs.  Additionally, she coordinated the Hope Shining Blue fundraising gala for Aurora Healing & Advocacy Services and planned workplace giving fundraising events in partnership with community organizations.
Prior to that, she worked at Aurora Health Care as a recruiter, sourcing specialist, executive assistant and recruiter assistant.
Anya serves Calvary Baptist Church in Milwaukee as a scholarship team leader, visual media specialist, greeter and special events planning team member.
She received her master's degree in management and business from Cardinal Stritch University and her bachelor's degree in business administration and human resource management from the University of Wisconsin, Milwaukee.
Anya is excited to embark on this next chapter and looks forward to developing lasting partnerships with faith-based denominations and community leaders to help people in our communities live well.
Contact Anya with questions and ideas at anya.gordon@aurora.org.