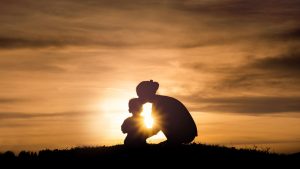 Maria looks forward to every other Thursday when she can attend Let's Talk!, a support group for moms.
"It's something special I do for myself," said Maria, a mother of two young children. "I always make time for it."
Maria, like other participants, have benefitted from Let's Talk!, a bi-weekly virtual group sponsored by Advocate Aurora Faith and Health Partnerships that offers encouragement, self-care tips, and education for participants at all stages of motherhood.
Each session includes a centering activity, such as deep breathing exercises, sharing time, and education on a different health and wellness topic. Past topics have included COVID precautions, child development, potty-training, and vaccination. Moms of older children oftentimes mentor new mothers, sharing their tips, experiences, and insights on what they might expect as their child grows.
"Everyone is so wonderful," Maria said. "It's nice to connect with other moms and share our feelings. We're like an extended family."
Nilda Garcia, Advocate Aurora Health Faith Community Nurse, and Amy McNicholas, LCPC, Mental Health Specialist and Faith and Health Partnerships Illinois Manager, co-facilitate, bringing their expertise in nursing and mental health to each session.
"Amy knows how to make each session end on a positive note," Nilda said. "She really listens and points out the positive things the moms are doing in their children's lives. They really enjoy what she has to say."
Support during the pandemic
Let's Talk! began as an in-person support group in the Avondale area of Chicago. But after the pandemic hit, it moved to an online format.
"Many of the moms have felt anxious about their children's development and their parenting skills during the pandemic," Nilda said. "They needed our reassurance. We reminded them that they are their children's first teachers. By building consistency and being present to their children, they will provide stability during this uncertain time."
Nilda and Amy also have helped participants impacted by the pandemic's economic downturn by referring them to mental health services, food, utility and rent assistance, and other community resources.
Nilda and Amy's emphasis on the importance of self-care has resonated with Maria
"As moms, we tend to forget ourselves," she said. "Nilda and Amy encourage us to carve out time for self-care, whether it's stretching in the morning, having a spa day, going for a walk, or calling a friend. It's not easy trying to do these things, but I'm trying."
"The group has been a blessing," said Christine. "Mothers have unique challenges and they have increased exponentially since the pandemic. It has allowed us to share our struggles and encourage one another."
"My daughter has benefited, too, by me being in a better place," she added.
"It has been a lifeline for so many," Nilda said. "They feel like they are not alone on the journey of motherhood. The group offer them friendship and a safe space to share their joys and struggles."