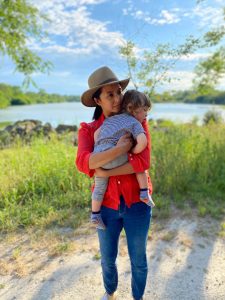 To show her gratitude and say thank you for the support she, her husband, Nicholas, and son, Reid, have received over the past year, Marita is giving back.
She has donated clothing and other baby items for families impacted by the COVID-19 pandemic and has created care packages of toiletries and socks for those facing homelessness.
Since the COVID-19 pandemic began, Ivette Menendez, Community Connector with Advocate Health Care, and Nilda Garcia, Faith Community Nurse with Advocate, have been overwhelmed by the generosity and love shown by residents, like Marita.
"We are seeing acts of love by people who are full of love who want to support others," Ivette said. "The pandemic is bringing people together."
When the pandemic hit, Nicholas' work as a photographer came to a halt.
The family received help through the Avondale Faith and Health Collaborative, through which Nilda and Ivette serve, by receiving diapers and rent and utilities assistance.
Marita received support through the Collaborative before the pandemic, as well
Marita attended Nilda's infant massage class and other programs designed to nurture new mothers and families.
"I wasn't' prepared for that fourth trimester, the first three months of becoming a new mother," Marita said. "Nilda's classes allowed me to connect with other mothers and helped me feel like I wasn't alone."
"Nilda's classes were my sanctuary," Marita added. "Nilda has given me confidence in being a new mom.  She has been a pillar of support."
"All I want to do now is to give back full circle – to support Nilda the same way she has supported us. I have my sisters, my mother and my mother-in-law.  But Nilda has kept me going, for sure."
Avondale Faith and Health Collaborative
Marita's donations of baby items and her involvement with a homelessness ministry help strengthen the work of the Avondale Faith and Health Collaborative, under which Nilda and Ivette serve.
The Collaborative is a partnership of faith-rooted organizations and faith communities that have come together to improve the health and well-being of Avondale residents.
Nilda and Ivette's work also includes developing and supporting congregational health ministries, developing and coordinating health promotion programs and consulting with residents and faith leaders on health questions and issues.
Learn more about the work of Nilda and Ivette by visiting their Instagram page:  love_in_avondale.