We all can make a difference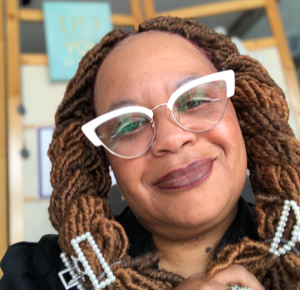 Dr. Tonja Williams has had a passion for working with individuals with disabilities, their caretakers and community for nearly 30 years.
In fact, she always keeps a pen and paper handy at her bedside to jot down ideas on how she can best serve her clients.
"Oftentimes I'm awakened with different thoughts: 'How could I help this person?' 'How could I bless that person?' 'How could I be prepared for the call and outreach that may come?'," she says. "I take my work to bed with me. I marinate on it, pray on it, and dream on it."
Tonja is founder of T.WMS. Consulting, LLC and TMW Edu-Sulting, which offer a wide range of business, education, advocacy, coaching and legal services for differently abled and diverse population from all walks of life. Tonja also is an independent associate with a global legal shield service, which has equipped her to help her clients create transition and protection plans for families.
Her work includes offering 504 and Individualized Education Plan evaluations, transition planning, career coaching, job readiness and college-planning services, assistance in searching for vocational programs, and other support services.
Leaning on her knowledge and vast experience, which includes education, child welfare, restorative practices, training, and juvenile justice, Tonja spoke with the Chicagoland Trauma Informed Congregations Network about the ways we can all make a difference in the lives of individuals living with disabilities.
Create a sense of belonging.  "It's not just about including people – it's also about saying, 'We need you here. We need you at the table,'" Tonja said. "Create an inclusive and welcoming environment and find ways for differently abled individuals to participate and share."
Offer peer-to-peer programming.  "Welcome individuals with disabilities into your programming where they could be linked with traditional peers," Tonja said. "They learn this is still your peer, but he/she just communicates and learns differently."
"This can teach young people leadership skills and compassion," she added. "It can help them learn how to welcome inclusion. You'd be surprised by some of the relationships that develop. And their parents are flabbergasted. One of the prayers of a parent who has a disabled child is that their child has a friend. And oftentimes because of the isolation and limitations they don't have friendships outside of their family."
Take on a leadership role. "Oftentimes people have amazing thoughts and ideas and they never share," she said. "You'd be surprised by what your thoughts can spark. I always say we activate each other. But if you never turn on the switch, you won't activate yourself or share that energy to activate others."
Partner up.  Tonja surrounds herself with organizations, agencies and leaders that not only complement what she does, but also stretch what she can do to support her clients.
"I don't do it alone – I team up with many organizations," Tonja said. "I broker and connect people to people. I'm that conduit and servant."
For example, if someone has a question or a need, they oftentimes will call Tonja. "I may not have the answers, but they know I know someone who does," she said.
Net-world.  "Take yourself out of your element and seek invites to put yourself in another world," Tonja said. "Learn about resources in your community that serve individuals with disabilities, volunteer, attend events or connect with people who are doing things you want to do.  Partner with experts who work in that space. Net-worlding not only pulls us out of our comfort zones, but it also makes us more pliable to participate in change. This is true servitude!"