How Faith Community Nurses Can Empower Congregants in Preventing Stroke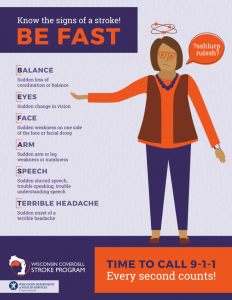 By Rebecca Eberhardt, Quality Coordinator, Sr., Sepsis and Stroke, Advocate Aurora Health
At Advocate Aurora Health, our mission is to help people live well. How can we apply this to stroke prevention in our faith communities?
Nutrition
Transportation or mobility issues can impact congregants' food choices, especially if they do not live near a supermarket. Faith community nurses can make an impact by sharing information about the Women Infants and Children (WIC) program, senior meal programs, Meals on Wheels, and other nutrition programs.
Older adults on a tight budget may shop less frequently for groceries, so may buy fewer fresh fruits and vegetables. Faith community nurses can talk with them about the foods they like and encourage them to make more homemade soups and stews that are easy to chew and digest. They can freeze and reheat leftovers as a good alternative to frozen dinners, which typically have a high sodium content.
Encourage families to cook by sharing healthy seasonal recipes with ingredients that are easy to find and prepare. If they lack confidence in the kitchen, encourage them to start with easy recipes.
Exercise
Immobility can lead to weight gain and muscle loss and can set up older adults for falls and pressure injuries. Some may avoid leaving their home for fear of their safety. Faith community nurses can suggest congregants start small with simple exercises, such as seated stretches and marching in place during commercial breaks or around mealtimes. Faith community nurses also can share local recreation guides with diverse options that can get people moving together socially.

Identify Stroke Risk Factors and early Warning Signs
Stroke is the fifth leading cause of death in Wisconsin and the third leading cause in Illinois.
Faith community nurses can offer blood pressure screenings and teach congregants about stroke risk factors and how to identify a stroke. Nursing students and staff from Advocate Aurora Health hospitals or clinics can be fun partners for this. Connecting congregants who have high blood pressure to a primary care provider and sharing information about nearby clinic locations can help congregants receive the care they need.
Display BE FAST materials at your sites. Even children can identify stroke symptoms in parents or grandparents based on this information, so sharing widely can be beneficial.