A Passion to Reverse the Statistics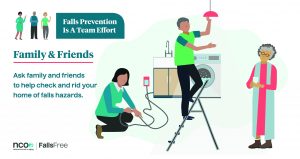 Did you know that Wisconsin has the nation's highest rate of deadly falls among older adults? In 2019, 1,672 Wisconsinites age 65+ died from fall-related injuries. Among them: 234 in Milwaukee County.
Nationwide, falls are the leading cause of injury-related death among adults age 65 and older, and the age-adjusted fall death rate is increasing, according to the CDC.
Linda Radder, an Advocate Aurora Health Faith Community Nurse with Cross Lutheran Church and St. Bernadette Catholic Parish, Milwaukee, has a passion to reverse those statistics. She shares literature with congregants on how to correctly use a cane, walker, and other assistive devices. Linda also teaches the 
Stepping On
 fall-prevention course at Cross and Aurora Sinai Medical Center and hopes to introduce the course at St. Bernadette later this year.
Through Stepping On, Linda teaches participants how to build and maintain the physical strength and balance they need to walk confidently, and how to decrease their risk for a fall. The course also includes making an individualized fall-prevention plan and hearing from peers on how the class has helped them.
"The class is so needed," Linda says. "It has raised my own awareness of fall prevention too. I hold onto railings more and have become more thoughtful about ways to stay safe when I'm at home or out in the community."
Other Advocate Aurora Health team members participate in the Coalition, as well, including Suzie Ryer, board certified geriatric physical therapist/senior project coordinator, and Ann Gallo, senior services program coordinator, who 
co-lead the Coalition
. "They are a great team," Linda says. "Suzie and Ann know how to get things done."
Despite the statistics about falls, Linda has optimism. According to the CDC, falls are not a normal part of aging and can be prevented.
"It's rewarding to see people learn how to use a walker correctly or start an exercise program so they can keep moving safely," Linda says. "Just seeing people change their habits and become safer is very joyful."
Learn more: