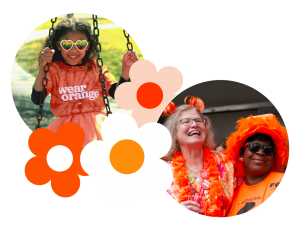 Honor survivors of gun violence on National Gun Violence Awareness Day, June 4, and Wear Orange weekend, June 5-6.
On January 21, 2013, Hadiya Pendleton, a high school student from the south side of Chicago, marched in President Obama's second inaugural parade. One week later, Hadiya was shot and killed on a playground in Chicago. Soon after this tragedy, Hadiya's childhood friends decided to commemorate her life by wearing orange, the color hunters wear in the woods to protect themselves and others.
Wear Orange originated on June 2, 2015—what would have been Hadiya's 18th birthday. Now, it is observed nationally on the first Friday in June and the following weekend each year. In the years since, participation in Wear Orange has increased tenfold.
From the south side of Chicago, to community organizers in Queens, to students around the country, we will come together to wear orange and demand a change.