Trauma-informed Care Takes a Village
By Yesenia Maldonado, LCSW, Director of Social and Emotional Learning, Office of Catholic Schools, Archdiocese of Chicago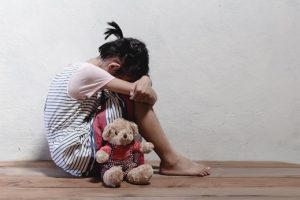 Childhood trauma is common. According to research at the National Child Traumatic Stress Network (NCTSN), two thirds of children in the United States experience a traumatic event or circumstances by the time they turn 16. Whether they personally witness a traumatic event or are exposed to it on the news or social media, children may experience intense emotions and a heightened sense of insecurity. Trauma is an event, series of events, or set of circumstances that is physically or emotionally harmful or life threatening. It has lasting adverse effects on a person's ability to function and their mental, physical, social, emotional, or spiritual well-being. Children's reactions to traumatic events depend on the severity of the event, the availability of support, and their age, personality, and previous experiences of trauma. This infographic from NCTSN provides developmental trauma responses.
At any stage of development, a major factor in recovery from a traumatic event is the presence of a supportive and caring adult in a child's life. In my role as the Director of Social and Emotional Learning at the Office of Catholic Schools, I work with educators on implementing trauma informed SEL to establish positive relationships with all students.
Trauma-informed SEL is an approach that seeks to create a safe and reliable environment where students who have experienced trauma feel supported, have access to the mental health resources, and are able to explore their strengths and identities, exercise their agency, and develop meaningful, positive relationships with adults and peers. These educators also work to develop and model their own social-emotional skills by utilizing self-care practices and actively engaging mental health supports as they need them so that they can be supportive adults for their students.
As the adage goes, "It takes a village" therefore, like educators, caregivers, relatives, medical staff, spiritual leaders, judges, first responders, and other community service providers all 
play an important role
 in in buffering the negative effects of childhood trauma. Trauma can alter the way someone sees the world, making it suddenly seem a much more dangerous and frightening place. When an adult encourages a child to talk about their feelings, validates their emotions, answers questions honestly, and reinforces routines, they are helping to rebuild a young person's sense of safety and security and positively interact with the world around them.