Prayer Shawls Provide Comfort to Those Facing Illness
"I truly felt your love and prayers and the warmth of the Lord around me." Alesha.
Thanks to the Prayer Shawl Ministry of St. James Catholic Church, Franklin, WI, patients, like Alesha, have received the gift of warmth and comfort.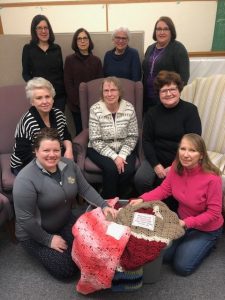 "There is a need for the prayer shawls – they mean so much to those on the receiving end," said Margie Bosanko, who co-leads the Prayer Shawl Ministry with Marleen Baker.
Since 2005, members of the Prayer Shawl Ministry have crocheted and knitted more than 700 shawls, most of which have gone to patients at Advocate Aurora Health hospitals throughout the Milwaukee area.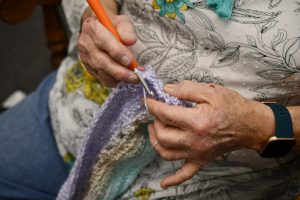 Each shawl has a hand-stitched prayer or word of encouragement, and comes with a prayer card that reads:
"This shawl was crafted with prayers for your healing body, mind and spirit.  As you wear this shawl, may you feel the warm embrace of your Heavenly Father."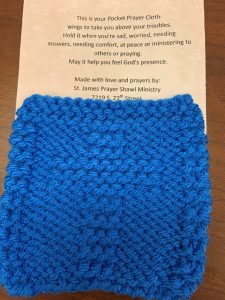 Members of the Prayer Shawl Ministry also crochet and knit four-inch-square "pocket prayer cloths" for patients and community members.  Each pocket prayer cloth includes a special message:
"This is your Pocket Prayer Cloth – wings to take you above your troubles. Hold it when you're sad, worried, needing answers, needing comfort, at peace or ministering to others or praying. May it help you feel God's presence."
Some members of the Prayer Shawl Ministry have received prayer shawls in the past. "Creating shawls provides a way for them to give back and help others," Bosanko said.