National Health Corps Chicago Members Make Impact at Advocate Trinity Hospital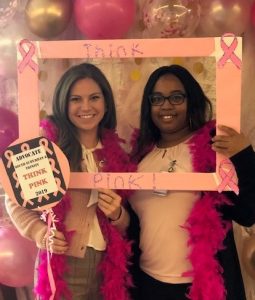 As she looks ahead, Christina Baum (left) hopes to attend medical school and become a physician at a women's correctional facility.
Caitlyn Asama (right) sees law school in her future, with the goal of practicing healthcare law.
Baum and Asama feel better prepared for their futures, they say, thanks to a partnership between Advocate Trinity Hospital and National Health Corps Chicago (NHC Chicago).
Through NHC Chicago, Christina serves as a diabetes educator for Trinity's Diabetes Prevention Program, which uses  Centers for Disease Control and Prevention curriculum.
Caitlyn serves as a health educator through Trinity's Healthy Living Food Farmacy program.
They are among the 20 NHC Chicago members serving in 13 health-related organizations throughout Chicagoland for the 2019-20 term.
The partnership between Trinity and NHC Chicago began in 2010. Since then, NHC Chicago graduates have gone on to become doctors, nurses, public health specialists and other healthcare professionals.
"We appreciate having NHC Chicago members serve at our hospital each year, said Erika Davis, manager of community health at Trinity. "It's a way for them to gain exposure to the healthcare field."
Trinity also benefits, Davis said. "We get the extra help and support.  NHC Chicago members bring innovative young minds to the table and provide different strategies, ideas and suggestions to support our programs."
National Health Corps Chicago, a program of the National Health Corps AmeriCorps program, began in 1994 with the mission to improve access to health services in underserved communities.
"We are grateful for their hard work and dedication," said Rukiyat Lawal, coordinator of community health at Trinity. "It shows they have a will and compassion to serve in underserved communities. They chose our hospital because they see the programs that we offer and how we are addressing socio-economic barriers to health and wellness."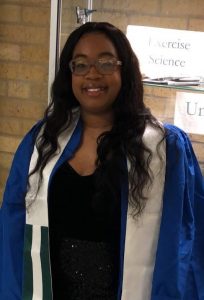 Caitlyn Asama, health educator, Advocate Trinity Hospital Healthy Living Food Farmacy
Her work includes ordering and distributing food; leading brief exercise classes and checking participants' weight, blood pressure and glucose levels.
"Working here has been eye-opening," Asama said. "I never knew fruits and vegetables could be costly for so many people, especially for those who rely on Social Security. There is only so much they could afford."
Caitlyn spends time with participants, sharing resources and information on nutrition and how eating better could help alleviate some of their chronic conditions.  "I make it a point to sit down and talk with participants about their concerns," Caitlyn said. "Some people just really need an ear. That's been a great thing for me."
A Highlight: When a participant shared how she had become more aware of the food choices she makes when grocery shopping.
"She now avoids foods with high sodium and sugar content," Caitlyn said. "That was really great. It shows me that the program is working, and someone is getting some benefit out of it."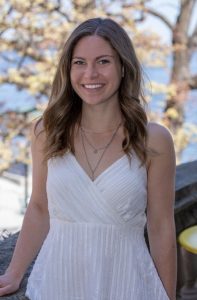 Christina Baum, Diabetes Educator, Advocate Trinity Hospital Diabetes Prevention Program
Her work includes recruiting participants, facilitating sessions on such topics as lifestyle, fitness and nutrition; tracking participants' weight, physical activity and diet; providing health tips and encouraging participants as they work to lose their target weight.
"Awareness is a very big aspect of the diabetes prevention program," Baum said. "A lot of people don't know they are pre-diabetic or predisposed to having diabetes.  A lot of what I do is getting the conversation started. It's better to take preventive measures than address diabetes when it's too late."
"During the class, I hear the struggles participants are having," Baum said. "I share resources that could help them along their journey, like how to eat healthy while on the go. We spend some time generating a list of healthy snacks that are still fast but a little bit better for them then fast food."
A Highlight:  seeing one of the participants achieve her weight-loss goal early in the program.  "We were super excited about that," she said. "When she learned what lifestyle changes worked for her, she just went all in. It was awesome to see."