Healing Cards Lift Patients' Spirits
Something magical seems to happen whenever Chaplain Rabbi Aggie Goldenholz offers get-well cards to the patients whom she visits.
"The Healing cards lift the spirits of patients who receive them," said Goldenholz, a chaplain at Advocate Aurora Sinai Medical Center, Milwaukee.  "The patients are reminded that someone – even a stranger – cares about them."
Goldenholz began offering the healing cards to patients a few years ago after she taught a class of 12 children, in grades three through six, about the laws of Bikur Cholim, (Jewish laws of visiting the sick) at her synagogue, Congregation Sinai, Fox Point, WI.
"Bikur Cholim, is an obligation," she said. "If someone is sick, it is up to each and every one of us to visit that patient with the intention of lifting their spirits up and, thus, encouraging healing to happen. Such visits also remind patients that they are a valued part of the community."
After the children completed their learning, they asked when they could visit patients at the hospital.  "I told them they were too young to visit," Goldenholz recalled. "One of the children began to cry. He said, 'So, why did we learn all of this?  That is not fair, I know that we are angels.  How can we do our job if we can't visit the sick?'"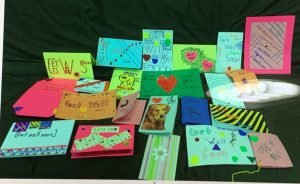 "Good question," Goldenholz responded. "You tell me."
The students huddled in small groups and decided together that they would make "cards that would be loaded with their healing powers," they said.
They got quiet and serious as they began the process of creating their cards.  "It gave me a great deal of joy to see how much these children wanted to do good in the world," Goldenholz said. "I saw them create with their heart and the depth of their souls.  They chose to be personally responsible to make healing happen for others."
Goldenholz recalled seeing a patient transform before her eyes after receiving one of the children's cards.
The patient had refused to eat and take her medications. She ignored the nurses and doctors' recommendations and hid under her covers.
"I was asked to visit her because staff didn't know what to do," Goldenholz said. "After introducing myself and letting her know that others were concerned for her health, the patient still did not respond."
Before leaving the room, Goldenholz shared the story of her students' belief that they are angels and they know how to help others heal.  She asked the patient if she would like a card before she left the room.
Suddenly, her hand reached out from under the covers. Her face soon appeared. Goldenholz moved closer and the patient chose her card.
"I told her I was so happy that she chose a card because the children put their hearts and souls into them," Goldenholz said. "This was their idea of how they can help healing happen."
The colored construction paper was folded in half. When opening it, the card had a gummy heart on each of its four corners. In the middle, the message said, "There's a heart for you in every corner."
As she held the card, the patient began to cry.
"She looked at me and said, 'A total stranger cares about me? Someone who doesn't even know me went to all the trouble to do this? I have no family, no one, just my children.'" She started to cry and said, 'Someone has a heart for me?'"
"The woman was smiling, crying and laughing at the same time," Goldenholz said. "She also reached out to hug me and later held my hand and did not let go for a long time. She said thank you many times."
Before her discharge, the patient said, "I have no family. I have no one. I thought I was alone in the world.  I'm going to treasure this card. I will hang it on our wall in the living room. I will teach my children that we all have the responsibility to reach out and help each other. We are supposed to help love grow so others can heal."
The Milwaukee Jewish Federation's Coalition for Jewish Learning recognized Goldenholz' Bikur Cholim project, awarding her with the 2017 Rabbi Emanuel and Deborah Lifshutz Mitzvah Award, which recognizes an educator's acts of loving kindness projects.
For those who wish to join Rabbi Goldenholz and others in making healing cards to lift patients' spirits, please stop by the Spiritual Care Office at Advocate Aurora Sinai Medical Center, 945 N. 12th Street, Milwaukee, WI.