Faith, in the setting of Advance Care Planning—Barrier or Facilitator?
By Shawndra Ferrell, DNP, APRN, FNP-BC, ACHPN

Advance Care Planning
What it is—What it isn't. Advance Care Planning (ACP) is a process, not an event. Foundational to this process are the following questions: If you were to experience a medical crisis, who speaks for you (your proxy)? When should they make decisions? What should they say/decide on your behalf? How do you ensure they know your preferences/personal values? Not a one-time occurrence, ACP may occur across one's lifespan, as the cycle of health-illness-recovery repeats, thus benefitting any person of any age or stage of health or illness. Discussions with your healthcare provider should include, but are not limited to, information related to: clear description of the nature, gravity, and anticipated trajectory of your illness, the types of treatment available (such as curable vs. supportive and short-term vs. long term), as well as the risks vs. benefits of each treatment option presented. Many include their families in the decision-making process, while other opt to notify them only after decisions have been made. The ACP process may, but does not always, lead to the completion of Advance Directives – your wishes in writing, made legal. Realistic, attainable healthcare goals are paramount to ensuring each person's wishes are honored, despite one's ability to participate in the process at that time.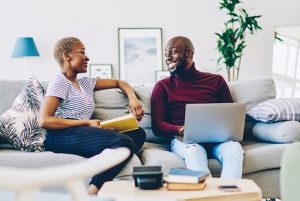 Benefits. In addition to those linked here, common ACP benefits are improvement in one's quality of life, lesser likelihood of being hospitalized, and lesser emotional burden on one's bereaved survivors. While the healthcare community agrees that ACP should ideally begin with your primary care provider (PCP) at the time of serious illness diagnosis, because of the intimate nature of ACP, there remains opportunity for the community to take an active role in facilitating these conversations. There are no standardized or expected responses, so each individual's ACP process is their own, because they are the person to whom it matters most.
Relationship between faith and healthcare decisions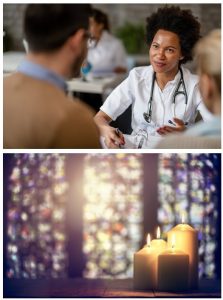 Occasionally opposing forces. Most people exhibit at least baseline trust in their healthcare providers; it is often during times of stress, fear, or great sorrow that members of faith organizations then seek the support and guidance of their faith leaders—wanting reassurance that their choices are aligned with their faith beliefs. According to Daaleman and Dobbs, greater religiosity had a significant correlation to older adults reporting less fear about death, but Balboni et al. also found, specifically in older adults with cancer, greater religiosity significantly related to pursuing all measure of life-sustaining or life-saving treatment regardless of the likelihood of meaningful recovery. There are many faith traditions that believe naming something aloud will cause it to occur, have an inclination toward positive-thinking-only, and have specific prayer practices or rules regarding who participates in one's end-of-life (EOL) process that prohibit healthcare teams from attempting to address patients' spiritual needs—a one-size-fits-all approach cannot work. One recent study revealed that healthcare professionals also list inadequate training or education, fear of causing patient's discomfort, and being unable to find the appropriate expression among reasons for their own difficulties offering religious/spiritual care to their patient populations. In my practice, I have, on occasion, seen patients struggle to convince healthcare providers that their healthcare decisions are neither uninformed nor irrational, but instead were based upon the faith tradition in which they found great solace. In a perpetual effort to uphold the basic principles of medical ethics, the healthcare community generally seeks to both "do no harm" (nonmaleficence) and to "do good" (beneficence) towards all patients, but what happens when a patient's wants goes against the obvious path and shocks medicine's sensibilities?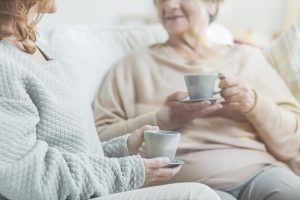 Collaborative opportunities.  Good news? We are living longer, however, the longer we live, the more likely we are to experience a serious health event or develop a chronic illness. While it is not necessary for healthcare workers to have an extensive nor expert level of knowledge about every religion, it is expected that all must respect the inherent value that understanding each patient's preference would provide. As more research occurs, it is likely to continue to show a direct correlation between the religious leaders' perception of the role religion has in ACP and EOL care and the perceptions of their members. As a provider, with patients' permission, I have invited their faith leaders to the ACP table. These faith leaders have later agreed that these weighty conversations should occur before hospitalization (before people are in crisis), with their PCPs and families, and when possible among their religious/neighborhood communities. They also realized it is likely that, in the process of spiritual counsel, they are already participating in many of the aspects of ACP with their members/congregants. When evaluated by healthcare providers, faith and religious expressions must be viewed as an essential part of a person's being which could eventually facilitate better-quality medical care, rather than being viewed as a barrier to healthcare.
Bridging the gap
Getting started. Work from the inside. Start at the top—faith leader buy-in will be necessary. Faith leaders should explore, address, and share any existing religious or spiritual tenets that may impact how a person's beliefs might influence their healthcare choices. Inquire within your faith community about anyone experiencing a medical crisis or caring for someone who is in need of ACP services. Seek local and community resources that already exist for providing advance care planning support—then seek to join them.
Resources.  The CDC provides a substantial, but not exhaustive, list of trusted community resources. Another is the Institute for Healthcare Improvement's (IHI) "The Conversation Project", which offers free, reproducible resources to faith communities hoping to get started involving their faith experience in their health experience.
In healthcare and many faith traditions, there are things that may go unspoken, but communities can work together to ensure Advance Care Planning isn't one of them. The ACP process should not be threatening but, with guided facilitation, can be expertly woven into the fiber of an organization in ways that do not create a spiritual crisis in the effort to prevent another one.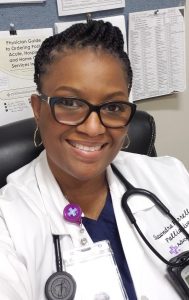 Shawndra Ferrell, DNP, APRN, FNP-BC, ACHPN, an Advanced Practice Nurse and Inpatient Palliative Care Program Lead at Advocate Trinity Hospital in South Chicago, holds Doctor of Nursing Practice from Loyola University, Chicago. Shawndra's goal as a leader in nursing: "To inspire, motivate, and encourage others to collaborate, on behalf of our patients, in pursuit of a common goal: to help those who are most vulnerable in our communities by increasing awareness, offering support, and providing resources in areas which they can no longer do for themselves or else they would."