Council of Islamic Organizations of Greater Chicago: Taking Care of Neighbors in Time of COVID-19
Since the COVID-19 pandemic began, the Council of Islamic Organizations of Greater Chicago, an organization of more than 60 mosques, schools and service organizations, has worked tirelessly to ensure the half-million Muslims, who call Chicagoland home, stay safe.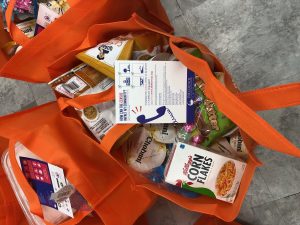 Among its efforts:  creating a task force charged with distributing food and monetary assistance to those in need; developing a helpline to help anyone who calls and commissioning a task force committee to develop guidelines to reopen its mosques and schools.
The committee, comprised of presidents, imams, masjid (mosque) administrative personnel and health professionals, has developed suggested guidelines for reopening:
Form a public health committee to track and streamline information and share it with leadership.
Ensure there is a communications plan in place.
Ensure there is a team trained to use PPE.
Make sure there are protocols on how to deal with people who are visibly sick. This may include conducting temperature checks at entrances and ensuring PPE equipment in on hand.
Request that worshipers place their shoes in their own bag upon arrival and keep the bag with them while in the building.
Request worshipers perform Wudhu, the ritual washing, at home before arriving for prayer.
Before opening, sterilize all soft and hard surfaces.
Have written assigned times for worshipers to pray at mosques. "This will help trace anyone who has been infected," said Irshad Khan, chairman of the Council and a member of the Advocate Health Care Mission and Spiritual Care committee. "This enables us to provide the data public health officials will need in the fight against coronavirus. If you could pray at home, we ask our worshipers to do that. It's going to be challenging, no question. Things will be very different for us going forward, but we are all in this together."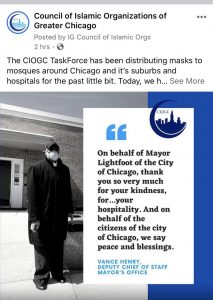 Many questions remain, Khan said. "Right now, 10 can gather. But when 50 can gather, what does that look like in a mosque that can hold 200 or 1,000 worshipers?  Looking forward, how will we implement smaller gatherings? That's a concern we want to address in the work of this committee."
Assuring a safe environment for worshipers, students and others remains the goal of the Council as the Muslim community prepares to reopen.
"There are references in the Quran about times of calamity," Khan said. "What is asked of us? First and foremost, to take care of our neighbors. To make sure they are safe and have the necessities."
Council of Islamic Organizations of Greater Chicago COVID-19 Efforts to Date:
Since the COVID-19 pandemic began, the Council of Islamic Organizations of Greater Chicago has coordinated a response, developed guidelines, distributed educational materials, and kept Chicagoland Muslims updated.  These efforts have included:
Creating a task force committee to develop suggested guidelines on reopening the masajid (mosques) and schools.
Creating a helpline to offer health consultations and access to medical, mental, and dental care.
Distributing food and monetary assistance through Muslim service organizations.
Hosting webinars addressing the CARES Act, e-learning and practical ways to address problems emanating from the effects of the pandemic.
Developing guidelines on hygiene.
Creating a Neighbor to Neighbor outreach program to assist seniors with groceries, transportation and more.