Back-to-School and Wellness Event Offers Resources and Fun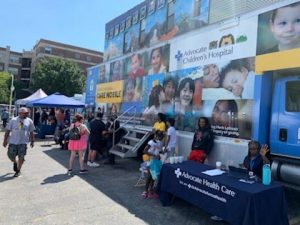 The South Chicago Neighborhood Network and numerous community partners, including Advocate Aurora Health, hosted a back-to-school and wellness event on Aug. 18, at Claretian Associates, 9108 S. Brandon Ave., Chicago.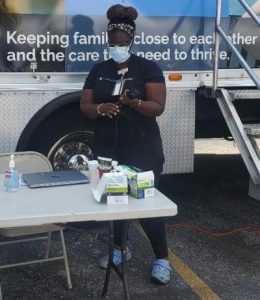 The event offered blood pressure screenings, one-on-one conversations with physicians, health presentations, social determinants of health screenings – and even musical entertainment, games, and a book bag giveaway for children.
A similar event that took place in April was so well received by community members, organizers knew they had to offer it again, said Shonie Purnell, RN, a Faith Community Nurse with Advocate Aurora Health, who played a key role in making the April event a reality.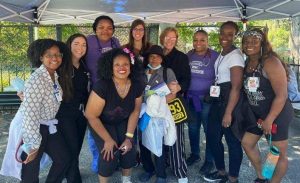 Fifteen medical students and medical residents, sponsored by Advocate Aurora, participated in the August event. The medical students performed health screenings, and through "Tea Time with the Docs," the medical residents had one-on-one conversations with participants about their health concerns, thus increasing their medical literacy, Purnell said.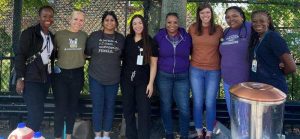 "Attendees could see that we cared enough about them to come out to their community and engage with them," said Dr. Roxanne Smith, a family physician and program director of Advocate Christ Family Medicine Residency Program.
"Many go into medicine because of their commitment to service and call to give back in any way they can," she added. "The medical students and residents have been asking for a long time how they can engage in the community. During the health fair, they enjoyed meeting one-on-one with community members and answering their questions. Afterwards, they asked when they can participate again."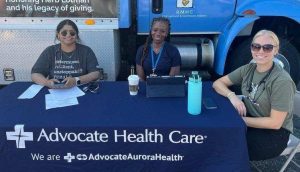 "The health fair made the Southeast Side community feel very special," Purnell said. "It felt like a big reunion. We were all happy to work in tandem with each other and see the impact we can make on a community. Just being there – our presence and the comfort provided in that room – spoke volumes."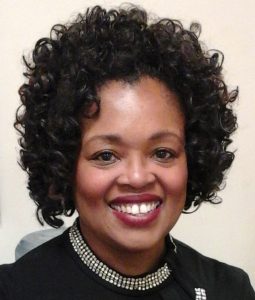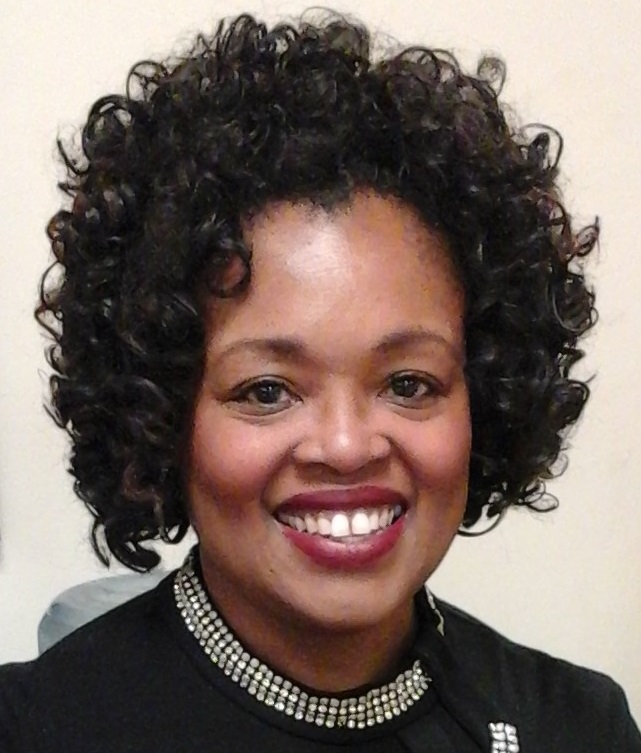 Shonie Purnell, RN, a Faith Community Nurse with Advocate Aurora Health, serves community members living on the Southeast Side of Chicago
"Every time I witness or am a part of impact on the Southeast Side, it inspires more hope in my life because I am from the area. I went to high school there I grew up there. I do understand the struggles that are accompanied with limited resources. I co-voyage with the community and our fight for freedom, health literacy, and health equity and having more options and tools to build a healthier life."
Dr. Roxanne Smith, a family physician and program director of Advocate Christ Family Medicine Residency Program
"Working with an underserved community is where my passion is. It's also part of the reason why I am involved in teaching. I feel that's a way for me to give back to the community. If I get to train the next generation of doctors and instill them with some of my passion about giving back to the community and working with the community, then I can help try to change this community for the better. You can't necessarily change an individual's health if you are not also changing the community's health. So, it's important to have the medical residents have that perspective and understanding that their work sometimes goes outside of the exam room, and it's just as impactful. That's part of why I do what I do as a program director and why I'm involved in teaching."