Healthy Hotspot Best Practices
Learn how houses of worship and faith-based organizations are taking creative and meaningful action to connect their members and communities to healthy living!
Kimball Avenue Church in Chicago
When faced with a facility crisis, Kimball Avenue cleared new ground and ended up growing healthy community.
If you visit the Kimball Avenue Church in Chicago, you may sing together, eat together, or get your hands dirty…but you won't do it inside a building.
In 2010, the congregation of Kimball Avenue Church worshipped in a historic building at the corner of Kimball and Medill…until a steam boiler pipe burst and damaged the building beyond affordable repair. So, in 2011, the congregation boldly moved forward in disassembling the building and opening up the space for God to fill it in. Read more.
First Pentecost Harvey
Since 2012, Bishop Ernest Owens, Pastor of First Pentecostal Assemblies International Church in Harvey, has been working on his personal health. An incidence of high blood pressure at the doctor in 2011 spurred a life change.
While his doctor had prescribed pills of the lowest dose, Owens was reluctant to become dependent on medication. He decided not to take the pills and focus instead on diet and exercise. "I worked hard, I really did. I cut my eating habit down, was more conscious of what I was eating, and I was exercising every day – to the point that I began to walk at least 5 miles every day at Veteran Park in South Holland," which would take him approximately and hour and a half. After several months of this, he began to lose weight. And his congregation began to notice. Read more.
Congregational Church of Park Manor
In 2012, Reverend Terrill Murff attended a Gardening "How-to" Workshop hosted by the Center for Faith and Community Health Transformation at Covenant United Church of Christ in South Holland.
At the time, Rev. Murff was working with church youth on a beautification project in South Holland.
"The gardening workshop was good for the kids who went through it there because they had a better sense of stewardship. And for one child in particular… it had a lasting impact on her, relationally and emotionally. It drew her into the community, drew her closer to us." Read more.
Quinn Center
The Quinn Center in Maywood was created in 2010, when St. Eulalia Catholic Church asked the community how they could use the building to save it from demolition and sustain it.
Overseen by Gabriel Lara, the Quinn Center went to the community to assess their needs. At that time, the church had 2 main food programs: a soup kitchen every Tuesday and a food pantry. These programs drew many individuals but served and distributed very unhealthy food. Like many feeding programs, "the bags of food were bad for people, especially those with diabetes," said Lara. So the church hired an intern from UIC to survey the recipients, their needs and their motivations. Read more.
The South Church
When Reverend Rick Kesler arrived at the South Church in 2008, the labor that had begun a church garden 10 years prior was wilting. In 2009, Kesler was put in charge of the garden. Today it's strong and growing – and feeding hundreds of neighbors.
The South Church in Mount Prospect has a plot on church property that's roughly 50 feet by 60 feet large. There are 20 rows available that grow up to 15 different vegetables. An engineering neighbor designed and installed a novel rainwater collection and watering system that runs on solar power, cutting down on the stress of watering. Kesler keeps track of every vegetable harvested weekly. The record was 1500 pounds harvested. Then they broke 1 ton – 2100 pounds harvested. In 2014, due to perfect weather, the South Church harvested 2450 pounds of produce. The 2015 harvest yielded 800 pounds of tomatoes, 550 pounds of zucchini, and 350 pounds of cucumber. Read more.
Covenant United Church of Christ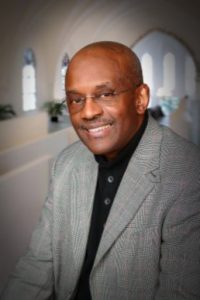 In the world of public health, researchers have learned that repeated reminders and layers of encouragement are most beneficial to have lasting impact on people's behavior. It's important that people see incentives not just at the gym, but at home, at work, at school, in worship, in restaurants, and in several other venues in order to continually encourage decisions that favor good health. Covenant United Church of Christ in South Holland has experienced the same effect on their church-wide efforts – reminders from all dimensions. Read more.