HIV/AIDS
Listed below are organizations and resources to support faith communities in addressing HIV/AIDS.
Faith and AIDS 2012:  Taking Action Together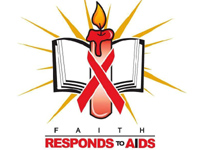 Reflections from participants from various religious backgrounds at the International AIDS Conference in Washington, D.C. in July, 2012 are recorded in this video.  Learn more about this initiative.
World AIDS Day Liturgies developed by the Ecumenical Advocacy Alliance (EAA) contain scripture readings and prayers that may be adapted to your local context. Available in several languages including Spanish, French and German.
Faith Responds to AIDS (FRA) is an interfaith coalition working to stop the spread of HIV/AIDS in the African-American community in the Chicago area.  Check out their Prevention Training Manual.  For more information, contact Rev. Doris Green at the AIDS Foundation at 312-922-2322.