Rev. Dr. Kirsten Peachey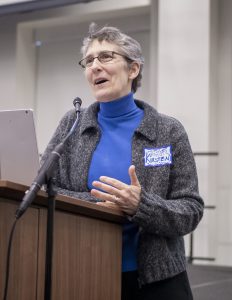 Director, Faith and Health Partnerships, Advocate Aurora Health 
Co-Director, The Center for Faith and Community Health Transformation
Kirsten Peachey is the Director of Faith and Health Partnerships for Advocate Aurora Health. In this position, she works with faith communities to support their role as promoters of health and healing through training, consultation, resource linking and partnership development. She also leads numerous grant-funded projects in congregational health.
Kirsten has a background in hospital chaplaincy and pastoral counseling, but she has a particular interest in how people come together to make change and how we apply our faith beliefs and practices to create the kind of world we all hope for. Kirsten was instrumental in founding The Center for Faith and Community Health Transformation in 2009.
Kirsten's work has been shaped by her experiences living overseas, both as a child in the Middle East and as an adult in South Africa, and in diverse urban settings in the United States. From these experiences she brings an appreciation for the ways in which ordinary people create resilient lives in the midst of struggle for justice and peace.
Kirsten is an ordained minister in the United Church of Christ. She studied Social Work at Temple University and the University of Chicago. She also holds a Master of Divinity degree and Doctor of Ministry in faith and health from the Chicago Theological Seminary. She has worked as a social worker, hospital chaplain, and pastoral counselor…but one of her favorite jobs was driving a Chicago city bus! She lives in Oak Park, IL with her partner and their son.