Claretian Associates: Advancing Mental Health Wellness in South Chicago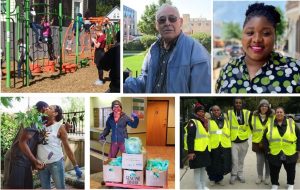 Since its founding in 1991, 
Claretian Associates
 has carried on a rich and collaborative tradition of responding to the needs of South Chicago and its surrounding communities by providing affordable housing and vital services that benefit the safety and wellbeing of residents and families.
Claretian Associates aspires to create a community that is affordable, safe, and equitable and that fosters a sense of safety and community.
Tending to the mental health needs of residents remains an important goal for Claretian Associates, as well. The 
South Chicago Neighborhood Networ
k (SCNN)
 is a collaborative of community partners that Claretian leads. Through a process of community conversations, SCNN identified mental health support as a primary concern and focus for its work. Advocate Aurora Health partners with Claretian and the SCNN to meet this goal by providing a Faith Community Nurse and Community Connector who develop relationships with faith communities to support clergy and equip congregation members to care for each other and people in the neighborhood. They help present 
Mental Health First Aid
 workshops, and the "
Addressing Trauma and Empowerment" symposium
, which covered such topics as the History of Systemic Racism, Mental Health and Emotional Wellbeing, and Actions for Social Justice. The AAH Faith Community Nurse also hosts a Prayer Line, Resilience Group, Grief Support, and classes on diabetes prevention and management.
Thank you to Claretian Associates and the other community stakeholders that comprise the South Chicago Neighborhood Network, as you advance wellness (including physical and mental health) and improve quality of life for residents in South Chicago.