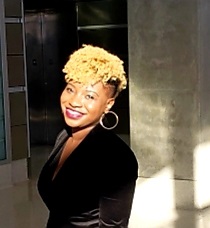 We are excited to introduce you to Trameka Brown-Berry, who recently began her new role with Advocate Aurora Health as a Faith Community Nurse in Milwaukee. Trameka has enjoyed a 13-year career in healthcare, having served six of those years as a registered nurse.
In her position, Trameka promotes and maintains wellness among parishioners by integrating faith and health. Her other responsibilities include serving as a health counselor and educator for the parish, facilitating the development and functioning of support groups, serving as a referral source and liaison to community resources, and providing client advocacy support to parishioners.
Trameka has a passion for caring for families holistically.  While working as a nurse in the Mother and Baby Unit at Froedtert Hospital in Wauwatosa, WI, Trameka enjoyed caring for and listening to the stories of the families she had the pleasure of caring for.  "I got to witness some really beautiful stories of new life being brought into this world, and also got to see some really heart-breaking stories of new life being brought into this world," she recalled. "It was a humbling experience for me."
In addition to providing care for the mother/baby dyad postpartum, Trameka cared for infants within the unit's Level 2 special care nursery who had breathing concerns and complications related to prematurity, as well as those who were born chemically dependent due to their mothers' drug consumption during pregnancy. She also saw infants being placed outside of their parents' care due to safety concerns. "Caring for these little ones was one of the hardest things I have ever done" she said.
"I learned so much while working on the mother/baby unit and as a result was really curious about the deeper rooted issues that mothers were facing that I couldn't necessarily see externally, what sort of resources were available in the community that may have been able to intervene and prevent or even support families like those I was caring for," she said. "It made me wonder about what their support system looked like. It made me wonder what more I could do."
"This eventually pushed me out of the hospital setting and into to my first community-based nursing position as a disease case manager nurse," she said.
In this role, Trameka partnered with children with asthma and their parents to provide education and manage factors that were causing a child's asthma to not be well controlled by working with parents, landlords, schools and connecting the families to other community resources to resolve those issues.
Trameka also worked with adults with depression in a similar capacity, trying to support them so they could consistently participate in therapy appointments and take their medications to manage their depression.
While in this role, Trameka began learning about adverse childhood experiences, emotional trauma, historical trauma, and intergenerational trauma. "I became increasingly interested in how trauma plays a huge role in our overall health and well-being and what I was seeing with the families I was supporting," she said.
As she learned more about the impact of trauma on families, Trameka became interested in learning more about programs and services that could break the cycle of generational trauma, and promote healing, holistic wellness and building healthy relationships.
This led Trameka to her position as Public Health Nurse for Milwaukee Nurse-Family Partnership Program, a national evidence-based program focused on working with at-risk first-time mothers from pregnancy until their child turned two. The goal of her work was to promote healthy pregnancies, healthy birth outcomes, and build healthy relationships with mothers and their children in order to reduce health disparities in infant and maternal mortality rates, and increase the chances of at-risk families' well-being physically, emotionally, economically and socially. In this role she continued to learn a great deal about child and family development, resilience, protective factors and the issues facing families within the community.
Since then, Trameka has participated in a variety of workshops, conferences and trainings on trauma-informed care, adverse childhood experiences, healing trauma and more.
In her role with Advocate Aurora Health, Trameka looks forward to applying what she has learned over the years to support the well-being of the entire family unit.
"My faith has played a huge role in guiding me personally, professionally, and academically on my quest for aligning with my God-given purpose," Trameka said. "It is so exciting to incorporate my spirituality into my nursing practice as I serve individuals, families and the greater community. I look forward to serving, connecting with, and learning from those we serve."
Trameka's nursing experience includes working as a:
HIV Nurse Case Manager, Children's Hospital of Wisconsin
Public Health Nurse Case Manager, City of Milwaukee Health Department
Childhood Lead Poisoning Surveillance and Monitoring Program
Nurse Family Partnership Program
Disease Case Manager Nurse, Children's Hospital of Wisconsin
Registered Nurse in Hospital settings:
Mother and Baby Unit, Froedtert Hospital
Medical Telemetry, Community Memorial Hospital/Froedtert Health
Liver and Kidney Transplant Unit, Froedtert Hospital
Additional Accomplishments include:
Currently pursuing a Doctor of Nursing Practice degree in Community/Public Health Nursing, UW-Milwaukee
President of Black Nurses Rock-Milwaukee chapter
Trained Adult, Parent and Teen Wellness Circle Facilitator, Samaritan Family wellness foundation & Aurora Family Service
Certified Lactation Counselor, Center for Breastfeeding
Completed Unlearning Racism: Tools for Action course, YWCA
American Holistic Nurses Association member
Participated in Part 1 Integrative Nurse Coaching Training, International Nurse Coach Association
Government Alliance on Racial Equity Core Team Training, City of Milwaukee Health Department