Healthy Food Maywood!
Do you want access to healthy, affordable food?
The Quinn Center in Maywood, along with other community partners, has contracted with Kings Hill Farm to receive weekly deliveries of their harvest all summer long.  You can have a box full of fresh, organic, locally produced vegetables each week for less than $20 per week for 20 weeks. Each box feeds 2-4 people and can be shared with another household.  It's not too late to sign up!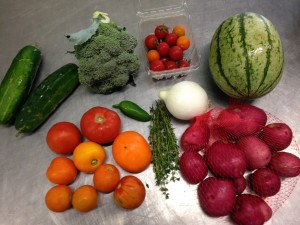 This picture shows the approximate amount of produce in a small box. Each week the produce will vary depending on the weather and harvesting schedule. Recipes are included in the box to help you use vegetables that you may not be familiar with.
The food boxes will be dropped off at the Quinn Center (1851 S. 9th Avenue, Maywood, IL) each week for easy, accessible pick-up.
Full price for the 20-week season is $400, but this can be divided up into payments and you can also split the box and the cost with someone else.
Schedule:
April 1:  $100 deposit will reserve your share!
Installment Payments of $50 or $100 accepted
May 15:  Full payment of $400 due (by check or cash)
June 2: 1st boxes of produce delivered Thursday, June 2.
Download an information flyer and sign up sheet here!
Note: Please bear with us as our payment page is still being built.  We are able to take cash, check or paypal.  Please email Jessica Palys (jessicapalys@gmail.com) for details if you need cash or paypal.  Checks can be made out to the Quinn Center and mailed to Gabriel Lara, Quinn Center Director, 1851 S 9th Avenue, Maywood, IL 60153.  Please put "CSA" in the memo or on the envelope. 
What is Community Supported Agriculture?
Community Supported Agriculture, or CSA, is a method of paying a nearby farm directly for a portion of what they are growing rather than what is being grown far away and transported across the country. The produce you buy is fresher and more ripe, organically grown, and causes less pollution to transport. Your early payment helps the farmer buy the seed, plant the crop and plan the harvest. Your food comes as nature allows: fast growing crops are harvested first, while late crops like squash and broccoli are harvested and delivered later in the season.
Healthy Food Maywood Bonus!
The Quinn Center will be offering cooking classes for some of the more unusual produce, and planning a field trip to Kings Hill Farm.  Look for email updates!