Stories of Impact: Making a Difference During the COVID-19 Pandemic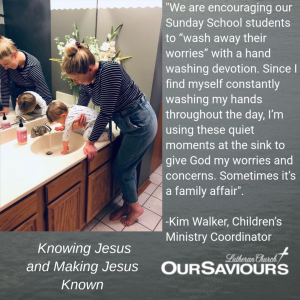 During this time of physical distancing and isolation, how are you staying connected with one another? How are you practicing your faith? How are you caring for those who are most vulnerable – those facing food insecurity, homelessness, mental illness and lack of resources?
See how individuals and communities are making a positive impact during the COVID-19 pandemic.  By sharing their stories, we can raise awareness of the work they are doing and inspire others to make a difference, as well.
Please send your stories and photos to Cindy Novak at cynthia.novak@advocatehealth.com, and we will post them here. Thank you!
See How the COVID-19 Pandemic is Bringing Out the Best in Our Communities
WFLD-TV FOX 32 CHICAGO: Dr Liz Regan, director of disaster medicine and preparedness at Advocate Christ Medical Center, shares why Wednesday's delivery of meals for team members is welcome support from the community. View video. Further coverage: WGN-TV 9 CHICAGO: View video.
WITI-TV FOX 6 MILWAUKEE:'People need something right now:' Teacher launches online movement to spread joy worldwide. Aurora Health Care emergency room nurse Erika Breeser is using a chalked sidewalk greeting to share a smile. View video.
How people are helping healthcare heroes get by.
Inspirational Messages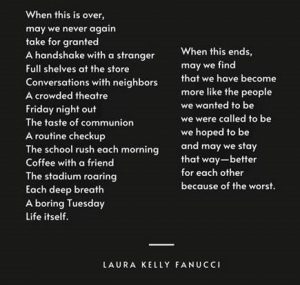 "And the People Stayed Home" by Kitty O'Meara
And the people stayed home. And read books, and listened, and rested, and exercised, and made art, and played games, and learned new ways of being, and were still. And listened more deeply. Some meditated, some prayed, some danced. Some met their shadows. And the people began to think differently.
And the people healed. And, in the absence of people living in ignorant, dangerous, mindless, and heartless ways, the earth began to heal.
And when the danger passed, and the people joined together again, they grieved their losses, and made new choices, and dreamed new images, and created new ways to live and heal the earth fully, as they had been healed.
"Lockdown" by Brother Richard Hendrick, a Capuchin Franciscan living in Ireland
Yes there is fear. Yes there is isolation. Yes there is panic buying. Yes there is sickness. Yes there is even death.
But, they say that in Wuhan after so many years of noise, you can hear the birds again. They say that after just a few weeks of quiet, the sky is no longer thick with fumes, but blue and grey and clear.
They say that in the streets of Assisi, people are singing to each other across the empty squares, keeping their windows open so that those who are alone may hear the sounds of family around them.
They say that a hotel in the West of Ireland is offering free meals and delivery to the housebound.
Today a young woman I know is busy spreading fliers with her number through the neighbourhood so that the elders may have someone to call on.
Today Churches, Synagogues, Mosques and Temples are preparing to welcome and shelter the homeless, the sick, the weary.
All over the world people are slowing down and reflecting. All over the world people are looking at their neighbours in a new way. All over the world people are waking up to a new reality to how big we really are. To how little control we really have. To what really matters. To Love.
So we pray and we remember that yes there is fear. But there does not have to be hate. Yes there is isolation. But there does not have to be loneliness. Yes there is panic buying. But there does not have to be meanness. Yes there is sickness. But there does not have to be disease of the soul. Yes there is even death.
But there can always be a rebirth of love. Wake to the choices you make as to how to live now. Today, breathe. Listen, behind the factory noises of your panic.
The birds are singing again. The sky is clearing, Spring is coming, And we are always encompassed by Love.
Open the windows of your soul, and though you may not be able to touch across the empty square, Sing.
A Prayer from Rabbi Yosef Kanefsky of B'nai David-Judea Congregation in Los Angeles:
"Every hand that we don't shake must be a phone call that we place. Every embrace that we avoid must become a verbal expression of warmth and concern.
Every inch and every foot that we physically place between ourselves and another, must become a thought as to how we might be of help to that other, should the need arise. 
So, as we keep a level of social distance, let us all remain spiritually near to each other, by responding to this health emergency with love and care for everyone's well-being. 
May Adonai give us the wisdom to continue to react appropriately to this crisis and heal those who have been infected."